Recruiting and hiring remote employees on a global scale is challenging—even large enterprise companies have had negative reviews due to poor candidate experience.
All candidate experience begins with talent attraction and ends when a candidate converts to an employee. And all of the touch points that matter for in-person hiring are included in this cycle, meaning that companies have had to attempt to replicate those in-person experiences for remote teams.
Companies that have gone fully remote with a global workforce are searching for ways to welcome new employees, showcase a stellar employee experience, and make remote employees feel like they're part of the team on day one.
Here are some areas that can be really impactful for your new employees starting with the offer letter.
4 Impactful Ways to Improve the Remote Candidate Experience
1. Offer candidate resources during the application process. You can be sure that candidates will research your company on review sites and on your company website. Offering content like employee videos, "day in the life" short videos, "how we work" videos that really answer the question "why would I want to work for this company?" can make candidates feel more confident about accepting your offer.
Once the candidate has signed on, giving them access to your internal employee site as soon as the offer is accepted is a great way to get new hires acclimated quickly. This should be a destination for incoming new employees to find everything they need to know about working at your company, including standard operating procedures, what technology the company uses (such as performance tracking apps and communication tools), company values and culture.
2. Provide virtual office tours. These are important even if your remote employees only see your office during company quarterly or annual meetings. They want to see where their other team members or hiring manager works, how the company operates, and giving a virtual office tour to your shortlisted candidates is an opportunity to showcase your culture. Consider offering tours during the final rounds of interviews to make the virtual interview feel like an in-person meeting.
3. Create a seamless virtual onboarding program. Employees who have a positive onboarding experience are almost three times as likely to feel prepared and supported in their role, according to a recent Gallup report.
Onboarding remote employees should mirror your in-person onboarding, but with remote roles, you have more flexibility to do things like preboarding or having your new hire fill out required forms and paperwork ahead of their start date. Once preboarding is complete, your new hire can focus on getting to know the company and their new team members.
4. Send branded new employee welcome packages. Employees are accustomed to getting welcome packages or boxes during orientation and onboarding, but organizing the same for employees working around the world can be more formidable for internal HR teams. There are companies that can put swag boxes together with your brand (and even mail them for you), but this can also be done in house.
Here are a few examples:
Delivery platform Lalamove in Asia sends a welcome package to new hires that acknowledges that the onboarding process looks a little different but they make sure their new hires get swag on day one.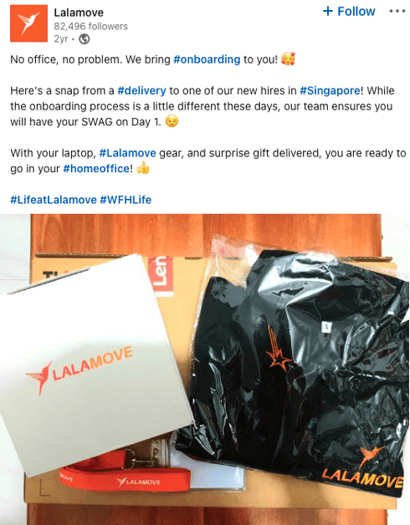 (Source: LinkedIn)
Global HCM provider Ceridian sends a swag package to new employees along with company-issued equipment.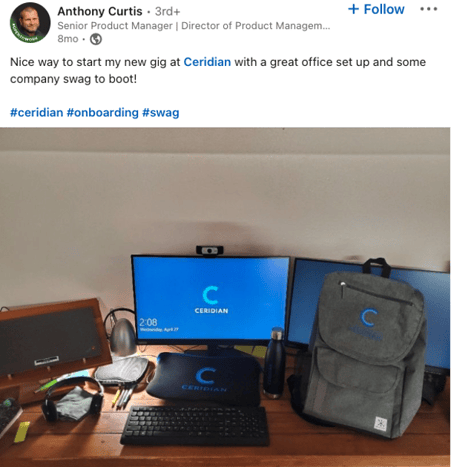 (Source: LinkedIn)
Global tech company Calendly takes swag just a step further by sending an "offer box" instead of a welcome box and includes a $100 gift card for a "celebratory treat" (and encourages new team members to share how they used it).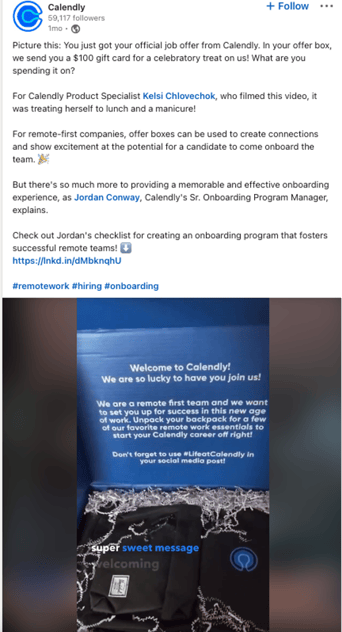 (Source: LinkedIn)
What these examples have in common is that they want to make welcoming new employees (who may never work onsite or in person) an event and something that their new hires will remember. Sharing these welcome boxes on LinkedIn or other social channels also improves employer brand and reputation, two things that are essential for talent attraction.
By perfecting the candidate experience for your remote hires, no matter where they will work from, you are also improving employee retention and engagement. This is especially true when you're working in a hybrid model where some team members may be based at HQ and others working in another time zone. Your remote employees should feel as much part of the team as onsite employees.